This page dedicated in memory of James E. Cooper. April 4, 1927 - December 25, 1973
I don't really know what it is I wanted to say about my dad. I just thought I should give him a place here, since he's not around to do it himself. He was a terrific guy, who would take up for almost anyone. I only wish that he could be here now, to share in the lives of his children and grandchildren.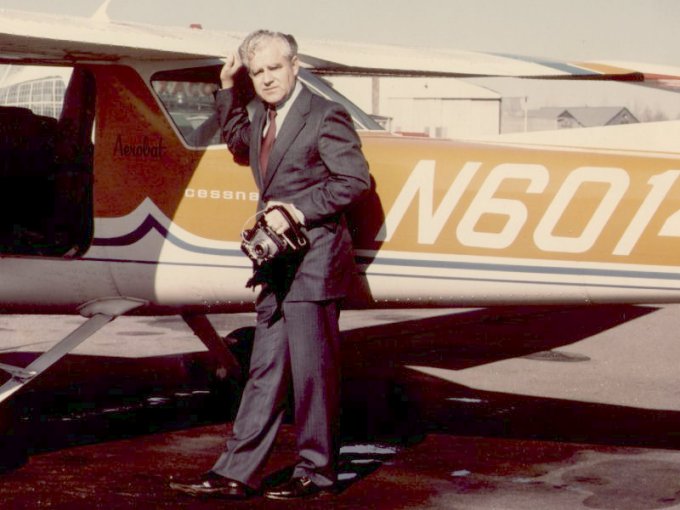 This is Dad, the way I remember him.... camera in hand, standing beside an airplane. I think we had been out doing some aerial photos that day. This must have been taken in 1973, the year he passed away... since he's standing by a rental aircraft. I think he sold the C-172, his last aircraft earlier that year.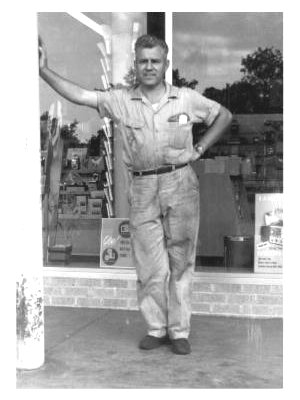 This is my Dad, standing in front of Tench Electric Motor Works, where he worked for most of his adult life. ( Actually, I think he's standing in front of the TV repair shop next door). This photo was taken in July, 1963 according to the date stamp on the edge of the print.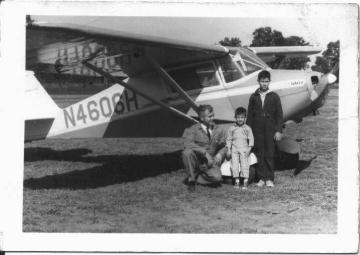 My dad loved airplanes. Some of my fondest memories are of he and I flying out of Swan lake airport/cowpasture outside Bossier City Louisiana 35 years ago. This is a picture of Dad, my younger brother Donnie, and myself in front of the Piper Vagabond after a Saturday out flying. We used to all three squeeze into the little two seater, with my brother sitting between me and Dad.
I remember once, my brother asking my Dad.... "What does it do if I do this ?" As he motioned as to gently move the control stick to the left. My Dad responded by showing my brother a turn to the left. "..and what does it do if I do this ?" he asked, as he motioned as to move the control stick to the right. My Dad responded as before, showing him a gentle turn to the right. "...and what does it do if I do this ?" and at that instant, Donnie grabbed the control stick and violently shook it back and forth. Naturally the plane repsonded accordingly. After that, my brother was not allowed to touch the controls.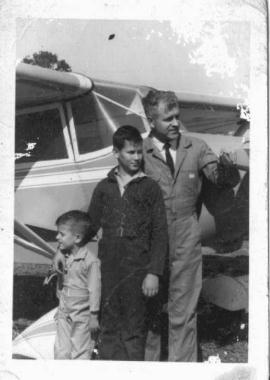 This is a closeup shot taken the same day. I don't remember who actually took the photo. It may have been the guy that had a little repair facility there. These photos were probably taken in about 1964, or 1965. I think that's when we had the Vagabond.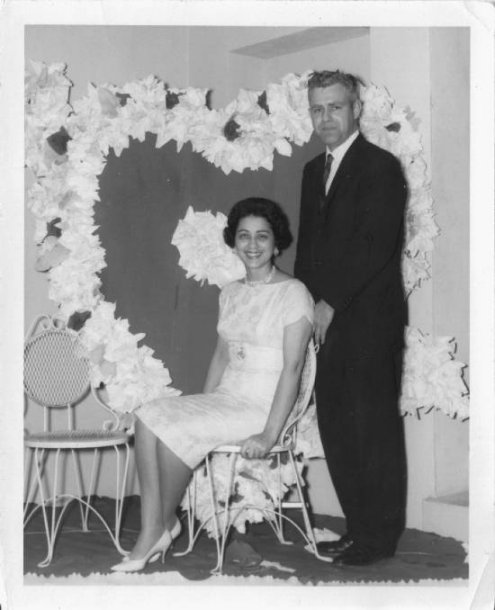 This is a photo of Mom and Dad at a sweetheart banquet, probably at Queensborough Baptist church, which was the church we grew up in. Dad was a photographer, and took photos at alot of banquets and simular functions.
Dad would sometimes get a shot made of himself and my Mom, who was his faithful helper at these events. I don't have a good idea of when this one was taken.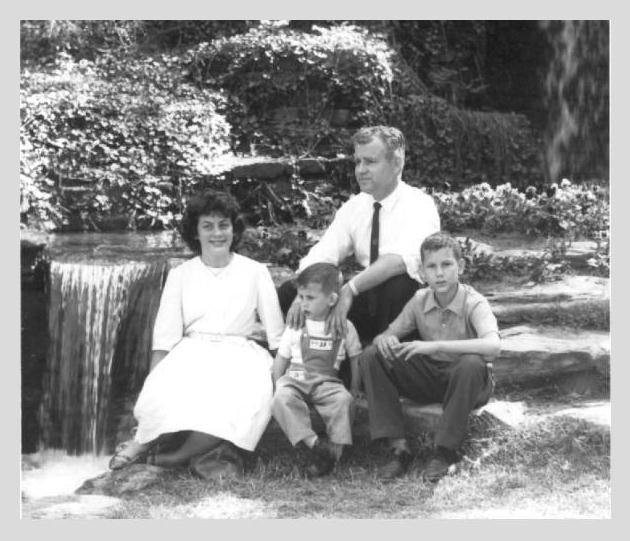 This is Dad, Jamie, Randy, and Donnie at Hodges Gardens, in Many Louisiana. Mom was probably behind the lens. This is one of the only photos I can think of were Dad is shown with all three kids...
Dad was pretty much a gadget/technology nut. I'm sure he would be crazy about computers if only he was around to enjoy what can be done with them. I can imagine him sitting at the keyboard back home sending us EMAILs, photos, interesting Web sites, and information on the latest general aviation items of interest. I can imagine him owning and operating a good color scanner, and doing his own photo retouching, and composit photos. He was very practical about his camera equipment though. Although a professional photographer, he never believed in spending the really high dollars for Hassleblad, or Roliflex cameras. He always used Mamiya equipment, because as he said.... it's not the equipment in front of the photographer, it's the photographer behind the camera that makes good photos.